In the previous two posts, we have learned about dynamic rescheduling module and its importance to deliver customer service excellence.
In today's post, we are going to explore why mobile technologies are changing the landscape and blurring the lines between personal and business networking.
An interesting question to ask yourself: When is the last time you use a traditional messaging system for communication purpose. The answer probably is never! Due to the abundance of app and internet access across the world, more people than ever are embracing mobile messenger app technologies. These apps include WhatsApp, WeChat and the likes of Facebook Messenger.
The chart below shows the top messenger apps by country, updated in September 2018. In summary, the top three messenger apps used around the globe are:
WhatsApp
Facebook Messenger
WeChat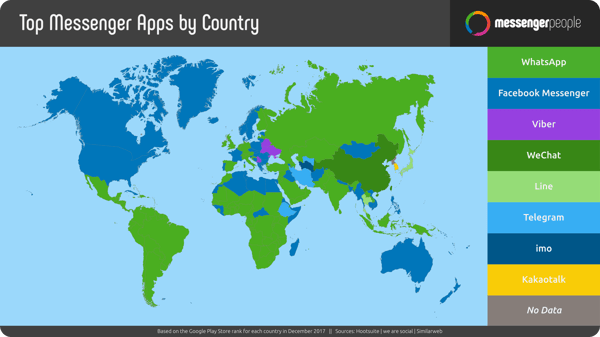 These are amazing statistics for us to learn from. The takeaway from the chart above is, your staff are constantly on the move. By having a dynamic rescheduling module such as the one WorkforceOptimizer offers, you are providing flexibility to your staff and ultimately giving your business more rooms for unplanned situations.
Follow us on LinkedIn.
[1] Similarweb.com – Top messenger apps by country