Optimizing your workforce should not remain as an ideal or an unattainable goal. How do you move it from being a goal to actualizing it in your organization?
In this two-part series, find out two technology-driven key practical tools that can drive the optimization of your workforce.
1 – Implementing Automation
There would hardly be anyone who would deny the ever-growing presence of automation in our lives. From automated chat bots to robot waiters, there is a good chance that you have interacted with an automated system in one way or another. The reason behind its phenomenon is simply because automation takes away the 'unnecessary' time spent on completing tasks. It enables programmed systems to perform tasks that were traditionally completed by humans, most of which, were labour-intensive and time consuming.
Robot.He, a restaurant chain owned by Chinese e-commerce giant Alibaba, offers a culinary experience served by robot waiters. Not only do they expect significant costs savings in the long run, robot waiters can be relied on to work all day, every day, and some may even quip, "without needing a tip". Here is just one example where automation is used to address long-standing challenges of labour costs and shortage. This is in addition to time savings from planning for manpower.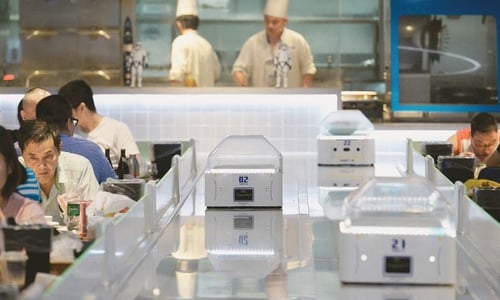 Robot.He waiters serving customers in Alibaba's Hema Supermarket. Photo credit: AFP
On a broader level, the other benefits of automation include providing real-time responses, reducing the room for human error, and driving accountability given that every transaction is recorded as data which can be easily tracked. In other words, the way we perform tasks can be redefined with methods that are optimized, thereby empowering the workforce to be more productive and efficient.
Though it may still seem like a daunting concept of high investments for many businesses, it is safe to say that given its trajectory, the benefits of automation are significant enough that all business leaders should be taking note of.
2 – Leveraging Analytics
Have you ever been asked to complete an employee survey form and realized that it took away a good 15-20 minutes of your time, and yet you probably did not answer truthfully to half of the questions due to the fear of your supervisors questioning your responses? Or perhaps, you have been subject to regular review from your supervisors whether you have hit your KPIs. Taking employee surveys or monitoring KPIs are no longer the only ways to analyse work performance.
Today, you can leverage your records to tell the story through analytics. HR managers, department leaders and even finance teams can use data to target the different fundamentals of the organization: employee satisfaction, employee performance, payroll statistics, etc.
If you're tracking employee time and attendance, data can be analyse to understand potential reasons why your workforce has been underperforming, for instance. Using analytics to dissect the root cause of the problems you are facing at work and would enable you to work on solutions around the things that really matter. This allows for a targeted approach and prevents your business from trying to solve an issue in the dark, which goes a long way in terms of optimizing your workforce.
Of course, every organization is not complete without its human resources. In the next article, we will focus on how transformation of your human resources can spark the optimization of your workforce.
Follow us on LinkedIn.